Can I see the ingredients label?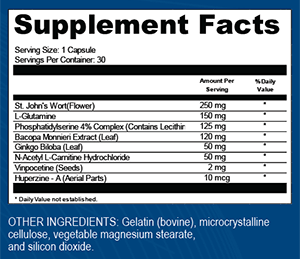 How many servings are in each container?
Each container of Triple Naturals Triple Cognigen Plus contains 30 servings, which costs you only $1.23 per serving when you take advantage of this discount right now.
How often should I take it?
We recommend taking 1 capsule (1 serving) in the morning.
How should I take it?
Preferably with meals or as directed by a healthcare professional.
Is it safe to order from your website?
Yes. We use SSL 256-bit encryption technology throughout our site, which is the same security system used by Amazon, your local bank or grocery store. So if your purchase is safe there, it's equally safe here.
What if the product doesn't work for me?
Even though this is a rare case, if for whatever reason you are not satisfied with this product, you will have a 100% money back guarantee for the next 60 days. We will even let you keep the product. That's how confident we at Triple Naturals are in Triple Cognigen Plus.
All you would have to do is contact our Customer Success team and we will immediately process your refund. So rest assured, you can try Triple Cognigen absolutely risk free for 60 days.
How long will this offer be available?
Because of the high-quality ingredients in this brain formula and the fact that they aren't easy to come by, there's a very high chance you can miss out on this opportunity when we run out.
If you're seeing this page right now, that means we still have some containers in stock. However, there's a very high chance we will run out soon and the next thing you know, there won't be any left. So I highly recommend you jump in on this opportunity now before it's too late.